The past 24 hours have been strong for cryptos, with the leading coins ticking higher across the board. At press time (about 1:15 PM EST), Bitcoin BTC (+3.72%), Ethereum ETH (+5.10%), Ripple XRP (+13.62%), and Litecoin LTC (+5.50%) are all in positive territory. Today's bullish action in the cryptocurrency markets has been a reprieve from the past four sessions of bearish sentiment.
This week's struggles for Bitcoin have placed added pressure on the entire crypto asset class. The trouble began last Monday when Fed Chairman Jerome Powell made a few comments critical of cryptocurrencies and BTC. Here are the highlights:
"They're [cryptos] highly volatile, see Bitcoin, and therefore not really useful as a store of value. They're more of an asset for speculation. So, they're also not particularly in use as a means of payment. It's [Bitcoin] essentially a substitute for gold rather than for the dollar."

On the Fed's own digital currency: "We're not in a mode of trying to make a decision at this point. We are experimenting with technology."
The key takeaway from Powell's comments is that the Fed isn't particularly fond of cryptocurrencies. However, they are working toward entering the market with a central bank digital currency (CBDC) of their own. As always, any talk of upheaval in the cryptosphere sent prices south, led by BTC retracing to the $50,000 level.
Cryptos Rally Behind A BTC Surge
As you can see from the daily chart below (as of Thursday's close), March BTC futures put in a hard test of the $50,000 handle. Now, prices are up significantly and holding in bullish territory.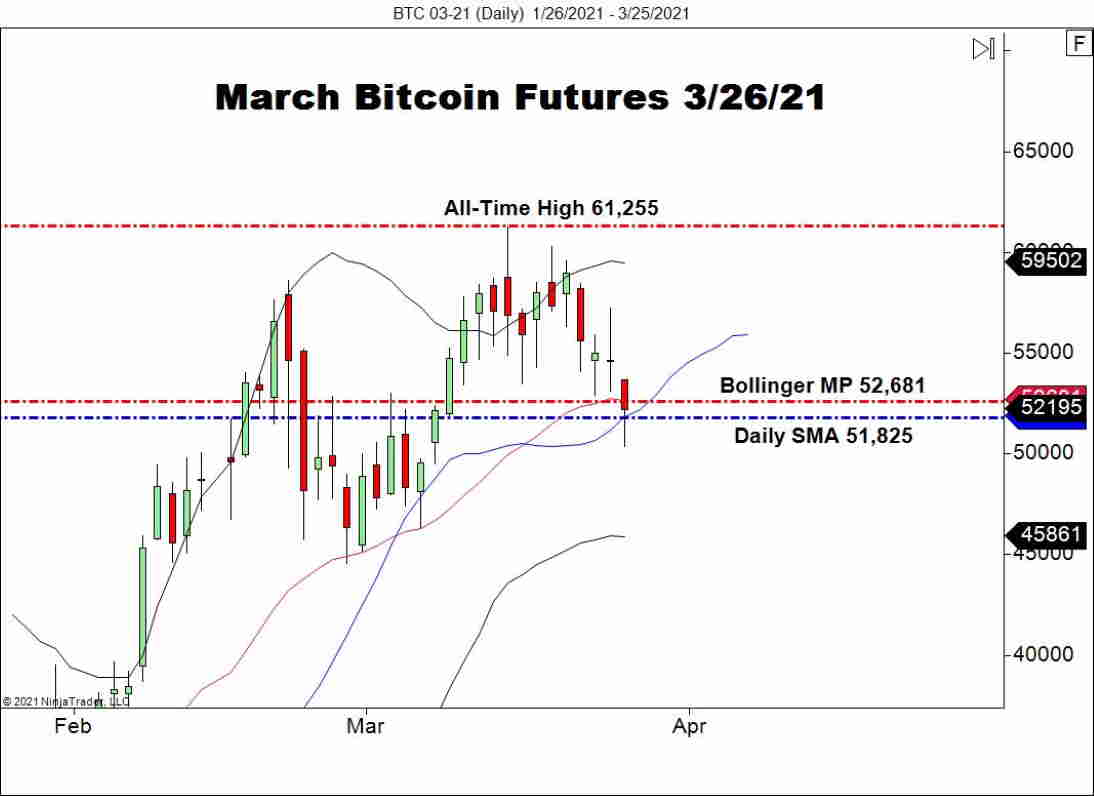 Overview: Since their meteoric early-2021 rise, cryptos have been a leading topic of discussion in financial circles. This week was no different; ominous statements from Fed Chair Powell sent prices plummeting. Subsequent headlines regarding a formal BTC ETF from VanEck Capital prompted a broad market rebound. As always, rumour and media headlines are key drivers of the entire cryptocurrency asset class.




Read More: Cryptos Rebound From Thursday's Selloff